A modern architectural masterpiece
Rising to a monumental height of 50 stories, the DUO® Tel Aviv towers will take their place among the acknowledged masterpieces of advanced architecture. Their impressive, awe-inspiring design will enhance the unique beauty of the Tel Aviv skyline, contributing to the city's quintessential flair, while also enabling its residents to soak in extraordinary urban views. DUO® Tel Aviv's unparalleled location, above quiet Ben Saruk Street, will provide residents with the best of both worlds in terms of city life: on the one hand, closeness and accessibility to the very best that Tel Aviv has to offer, and on the other, peace, tranquility, and a sense of privacy. The project offers a superb choice of apartments: a variety of 1, 2, 3, and 4-bedroom apartments and luxury penthouses. Overall, the design of DUO® Tel Aviv focuses on the daily lives and community needs of the residents, with many amenities available within the towers themselves, including a residents' club, 24/7 security, outdoor infinity pool with toddlers' pool and areas for sitting and sunbathing, an advanced fitness room with state-of-the-art equipment, high ceilings, and curtain walls.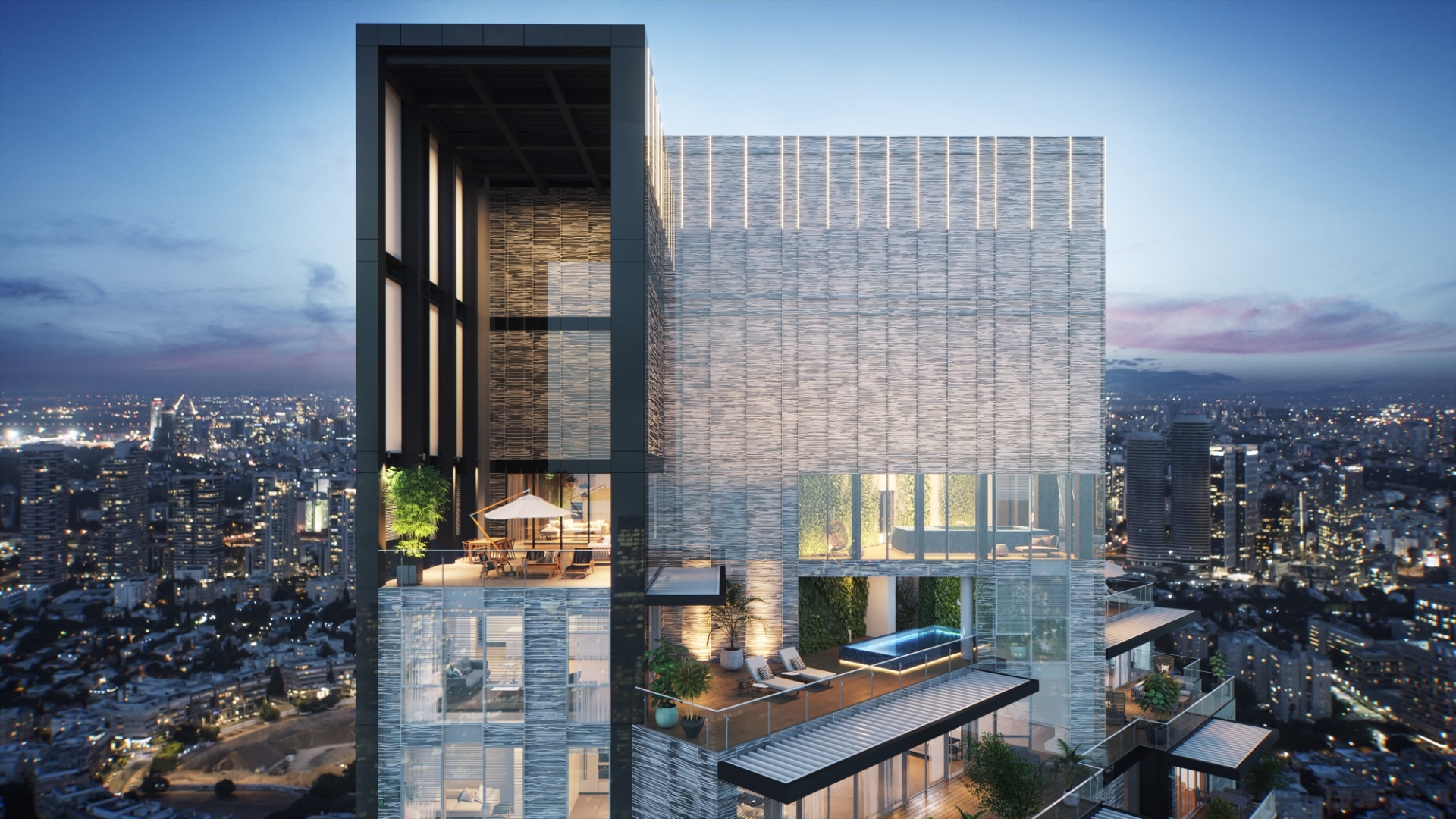 The residents' wellness complex is designed to be completely independent, with direct access from the lobby. Looking out over stunning urban views, the complex contains a residents' club as well as an especially large gym.
The complex is also home to the extensive pool area, which includes an infinity pool, toddlers' pool, and plenty of seating. Located on the roof of the lobby building that links the two residential towers, this extensive pool area creates an idyllic island of tranquility in the urban space.
Public areas throughout the residential towers reflect an innovative, inspirational design concept by Orly Shrem Architects. The magnificent ground floor, extending to an impressive height of 7 meters, will serve as the main lobby, connecting the two residential towers like an internal avenue. Each floor also has its own stylish elevator lobby. This "Reflections" design concept links urban life in Tel Aviv to design elegance and international quality standards, highlighting the advantages of the location and Tel Aviv's distinctive character. Each public area has been given its own identity, delineating the residential complex from the commercial area and ensuring all residents enjoy a sense of privacy and exclusivity.